Josephine P. Everett (1866-1937)
Josephine P. Everett was an extraordinary woman, a philanthropist, one of Pasadena's foremost citizens, and a passionate patron of music, books, and American fine art, who made significant contributions to Pasadena's culture.
Mrs. Everett was the wealthy widow of Henry A. Everett (1856-1917), a street railway magnate who financed, constructed, and operated many early electric railways in Ohio.  The Everetts, who lived in Cleveland, Ohio, joined many other Easterners who headed to Pasadena to escape the cold winters.  Beginning in 1912, they enjoyed extended winter vacations in Pasadena, staying at the Vista del Arroyo resort hotel on Grand Avenue.
After her husband's death, Mrs. Everett made Pasadena her home and in 1928 commissioned the esteemed Pasadena architectural firm of Sylvanus Marston and Edgar Maybury to design a 9,000 square foot mansion in Italian Renaissance Revival style for a cost of $60,000.  The home was constructed next door to the resort hotel (which now houses the 9th District U.S. Court of Appeals) near the iconic Colorado Street Bridge and was designed to take advantage of the cool breezes from the Arroyo Seco.  "Everett House" was a showplace for her extensive art collection, included a 120-seat performance conservatory she called the Music Room, and an upper level Library where she collected significant books including topics on women's issues.
Josephine Everett's contributions in furthering the cultural development of Pasadena and the Southland were significant.  An instrumental supporter of the Pasadena Playhouse and the Hollywood Bowl and involved in many other community, civic, philanthropic, and arts organizations, Mrs. Everett was – ironically – not a member of the Shakespeare Club.
After Mrs. Everett's death and subsequent ownerships, including occupancy by U.S. Government agencies during WWII, the Shakespeare Club purchased and renovated the mansion in 1971.  We proudly call it the "Villa".  Architectural Landmark Designation was sought and granted by the City of Pasadena in 2018.  Monument status will be sought in celebration of the 50th anniversary of the Club's occupancy of the Villa.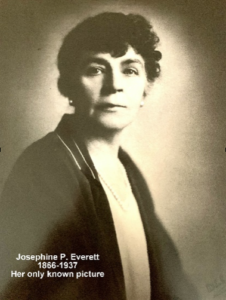 Mrs. Everett "…had been one of Pasadena's foremost citizens in the promotion of the fine arts…" (Pasadena Star News, July 5, 1937).   She was an avid collector of emerging American artists of her own time, many of whom gained later significance.  Among them were Abbott McNeill Whistler, John Singer Sargent, Guy Rose, George Westley Bellows, Millard Sheets, and sculptor Anna V. Hyatt Huntington of the Huntington family.  Mrs. Everett made her art available for viewing in her Pasadena residence, now the Villa.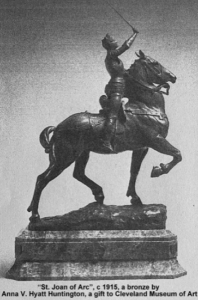 "Carmel Hills" c. 1914-1920 by Guy Rose,
a gift to Cleveland Museum of Art
"Girl and Rooster" c.1934 by Millard Sheets,
a gift to Cleveland Museum of Art
Starting in 1922, in the name of her daughter, Dorothy, (who died at age 29), she donated more than 100 notable paintings and sculptures from her collection of over 500 art pieces to the Cleveland Museum of Art, the now Pasadena Norton Simon Museum of Art, and the San Diego Museum of Fine Arts, as well as loaning pieces of art to various museums all over the country.
In recognition of her donations, the Cleveland Museum of Art's Bulletin stated: "The discrimination with which Mrs. Everett built up her collection over the years has given the Cleveland Museum of Art one of the basic collections of American art…a tribute to her sensibility and generous spirit." (June 14, 1938)
She also collected 521 books on women and women's issues, which she donated to the Huntington Library in San Marino in 1934, forming the core of its holdings in women's studies.  However, as far as known, Mrs. Everett was not involved in the suffrage movement.
Mrs. Everett loved music.  She hosted debut performances at the Villa of her many outstanding protege musicians.  Among them was Mrs. Everett's close friend, Lillian Steuber, whose fame eventually reached from coast to coast as she became one of America's leading concert pianists.  Other outstanding musicians such as the London String Quartet and the local Coleman Chamber Music Ensemble also performed in the Grand Hall.  She felt herself close to the artists and was personally interested in many of them.
Mrs. Everett was an active member of numerous civic organizations.  She was President of the Pasadena Community Playhouse Association and served on the Board of the Pasadena Civic Orchestra, to which she made significant financial contributions.  In Cleveland, she was a member of the Cleveland Museum Advisory Council from 1923 until her death in 1937.
Finally, Mrs. Everett was a philanthropist.  She is credited as being one of the founders of the Hollywood Bowl.  She was a supporter of California Institute of Technology, the Pasadena Public Library, the Neighborhood Church in Pasadena, the Salvation Army, and Scripps College.  Upon her death, Mrs. Everett bequeathed an estimated endowment of $500,000 to the Cleveland Museum of Art, in addition to her donated art.
After Mrs. Everett's death at the Villa, there was a four-day auction of her home and contents of her estate.  Claiming the auction to be one of 1939's greatest auctions, the auctioneer's Catalogue listed 40 pages of items, from objects d'art, a large collection of books, to home furnishings.  However, the Villa itself did not sell.  After all, who would buy such a unique house?
The Villa was occupied off and on by various residents.  As with the neighboring Vista Del Arroyo Hotel (now the U.S. Court of Appeals) it was occupied by the U.S. government in World War II.  It was also occupied by the U.S. Air Force Defense Filter Center from 1954-1958, routing reports from volunteer plane spotters to Norton Air Force Base during the nation's "Operation Skywatch," a civilian defense program.
In 1966, the Everett house was purchased to use as a home and music conservatory but again, was left vacant. Finally, in 1972, the Shakespeare Club acquired and restored the property, and the Club has been there ever since, appreciating this extraordinary place.
In 2018, the City of Pasadena designated the Shakespeare Club Villa – the Everett House – as a Historic Landmark based on 1) its association with a significant person in the history of Pasadena, Mrs. Josephine P. Everett, and 2) its high architectural significance as designed by noted architects Marston and Maybury.  For over the 48 years, the Shakespeare Club has called the Everett House its home.  The Shakespeare Club membership has worked diligently to maintain the Villa's grandeur and to continue its long tradition of hosting Shakespearean and other performers, guest speakers, and local artists – as well as its philanthropic participation in the Pasadena community.  No doubt, Mrs. Everett would be pleased to know her home is in such good hands.